D.C. Political Roundup: Simpson Running for Ward 1 Board of Education Seat
5/7/2014, 3 p.m.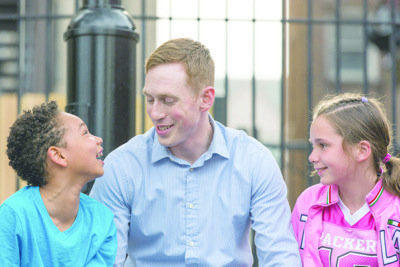 Ward 1 D.C. State Board of Education member Patrick Mara isn't running for another term in November and potential candidates are already lining up for the job.
Scott Simpson, a newcomer to the D.C. political scene, became the first to declare his intentions to run for Mara's seat on April 29.
"Ward 1 families deserve a strong advocate on the State Board of Education who's rooted in the community and understands how education policy choices impact students in the classroom," Simpson said. "Throughout my career and for over a decade in D.C., I've been committed to expanding educational opportunities for all students. I'm ready to put those skills to work on behalf of Ward 1 families on the State Board of Education."
Scott is employed as the press secretary for the Leadership Conference on Civil and Human Rights in Northwest, the nation's largest civil rights coalition led by Wade Henderson. He's also worked at the nonprofit, SMYAL (Supporting and Mentoring Youth Advocates and Leaders) in Southeast, an organization that provides for the educational and emotional development of young people, particularly LGBTQ (lesbian, gay, bisexual, transgender and questioning).
Beverly Wheeler, a former executive director of the D.C. State Board of Education, has decided to chair Simpson's campaign for several reasons.

"…We must move forward together and bridge the diverse communities of Ward 1; Scott Simpson can be that convener," Wheeler said.
D.C. Council member Jim Graham (D-Ward 1) has also confirmed that he's considering the Ward 1 position as well. Graham lost to political newcomer Brianne Nadeau in the April 1 Democratic Party primary. 

Kenneth Ellerbe, a Possible Council member?
 When D.C. Council member Yvette Alexander (D-Ward 7) said recently that she's thinking about whether to run for one of the two at-large D.C. Council seats in November, it led to speculation as to who would take her seat if runs and wins. A number of Ward 7 Democrats say that Kenneth Ellerbe, the embattled fire and emergency management services chief, might throw his hat in the race for the coveted council seat.
Ellerbe, 52, has served in his position since 2011. He's been criticized for his insensitivity to the work schedules of fire fighters, the lack of updated equipment and incidents during his tenure in which District residents have died due to his department's incompetence.
Ward 7 D.C. State Board of Education member Karen Williams said that Ellerbe would be a compelling candidate.
"I know Ken Ellerbe and I like him and if he is elected to the D.C. Council he would do a good job," Williams said.
Ellerbe, a District native, has never run for public office and served briefly on the D.C. Democratic State Committee.
A possible Ward 7 special election to replace Alexander would likely take place in May 2015. Alexander said that she will decide whether to run as an independent for the D.C. Council by the end of the month.
Williams, who lives in Southeast, said that Ellerbe would have to overcome the public perception that he has mismanaged his department.
"He has really had to tackle some tough problems in a short period of time," she said. "Unfortunately, some bad things have happened since he became fire chief but in politics, perception is everything."
However, Constance Woody, a longtime activist in the Northeast section of the ward, disagrees with Williams.
"Why would he enter the race?" said Woody, 79. "This whole thing is crazy."
Woody isn't pleased with Alexander's consideration of an at-large run and she doesn't think Ellerbe should run for the council.
"He has been tarnished by his leadership of the fire department," she said. "I understand that he is dealing with just plain racism but it seems that he is not on top of everything."
D.C. Mayor Vincent Gray (D), who served on the D.C. Council from 2005-2007, refused to speculate about Ellerbe running for the council seat.
"I see him all the time and he has not mentioned it to me," said Gray, 71. "It is just a rumor. He might do it but I don't think he will."